WE OFFER COMPLETE WATER WELL DRILLING SERVICES
Dyco Well Drilling provides quality, professional water well drilling services for commercial and residential drilling projects in Sarasota County and the surrounding areas.
Drilling Experts, You Can Trust
As a family-owned and operated business for over 30 years, there's no company in the area more reliable than DYCO WELL DRILLING.
You can count on us to install offset lines to preserve your landscaping and variable frequency drives for your water pumps. Get in touch with us today. We're licensed and insured.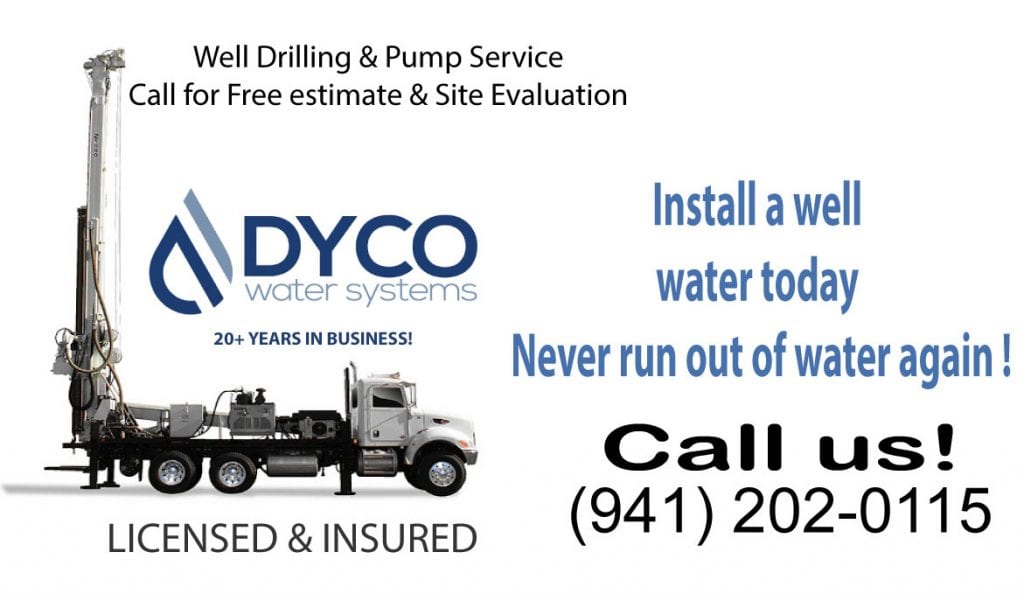 Well Drilling & Well Pump Service
Whether you're looking to construct a commercial, residential, or irrigation well, DYCO WELL DRILLING is the standalone option for service.
DYCO WELL DRILLING Service provides customers with more than just drilling and well pump repair in Sarasota and Manatee County Florida.
Well Drilling and Well Repair
Call us for a fresh well or to have an existing well deepened. Need a well cased or an existing installation to be repaired? Call us first! We bring capable equipment and the necessary expertise to every drilling job.
Well Pump Service & Repair: We're the number one provider of well pump repair in Sarasota County, FL, ready to service your existing pump to the fullest. And, if it's outlived its use, we'll be happy to help you retrofit it with a newer, more reliable model. We also offer brand-new pump installation for freshly-drilled wells.
REASONS TO CHOOSE US
We use modern equipment for our well drilling projects. As advancements are made in the water drilling industry, it's critical to work with a company that implements state-of-the-art methods.
We always clean up after we complete our well drilling work.
We have years of experience in the well drilling industry. We have a professional crew that gives its best so you can have safe, clean water.
Licensed, bonded and insured
Family operated
Water Well Drilling Service & Well Pump Repair in Sarasota Manatee county.
Your local, water well drilling and pump specialist.
From well drilling to pump troubleshooting, repair, and filtration services, we provide the services you need to enjoy clean, safe, reliable water in your home.
Contact us anytime, 24 hours a day!
See what people are saying about us.